REINFORCEMENT FOR REPLACEMENT BEHAVIOR(S)
High Rates of Positive Reinforcement w/Token Economy (Point Card)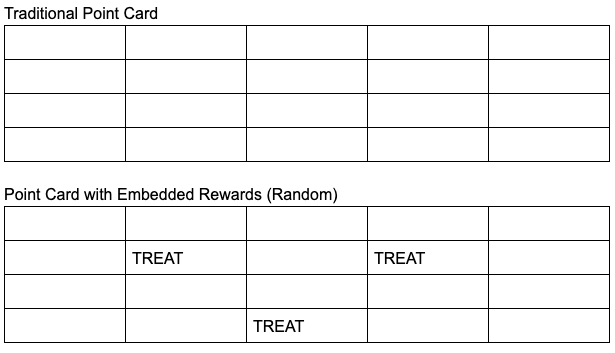 Reinforcement should be given at a variable rate (i.e, an average of 5 minutes, not every 5 minutes)

Reinforcement should be a combination of

verbal

behavior specific (i.e. nice job asking for a break!) and

visual

(student should see points applied to the point card)

Reinforcement should be given immediately upon completion of the point card with a Reward Menu
Examples of Reward Menus:
ATTENTION-BASED
Reward Menu:
Tell a story to peer or class

Game with adult for 5 minutes

Sits in teachers chair for 15 minutes

?

?
ESCAPE-BASED
Reward Menu:
Listen to music

Walk in the hallway

Read a book

?

?
TANGIBLE-BASED
Reward Menu:
Edible

Sticker

Pencil

?

?
---
TEACH REPLACEMENT BEHAVIOR(S)
Role Play
Three Phase Approach:
I Do It. (Model/Instructional Phase)
We Do It. (Guided Practice)
You Do It. (Independent Practice)
I Do

Explain the steps and then model the correct way to complete the role play.

We Do

Practice the role play alongside the student.

You Do

The student demonstrates the role play independently.
It is crucial to reinforce the student after each step. Because you are teaching a brand new skill, the reinforcement will need to be frequent and consistent in the beginning. Keep in mind the following equation when using the role play intervention to teach a new behavior:

Social Stories
Social stories are effective in reducing problem behavior by teaching the replacement behavior in a visually appealing progression. It is best to focus only on one skill per social story so that the student is not confused and to review the social story on a daily basis. The social story provides a clear direction for the student on how to respond appropriately to the scenario with short, descriptive sentences combined with a picture or illustration. Social stories also improve self-awareness, self-calming, and self-management strategies when used to teach de-escalation and emotional regulation strategies. 
Example:
Gerry's problem behavior is noncompliance and disruption around transitions. The transition that he struggles with the most is lining up with the rest of his class prior to going into the hallway. His teacher creates a visual story so that he can read it daily to demonstrate how to line up appropriately. 
| | |
| --- | --- |
| Visual | Step-by-Step Description of the Expectation |
| | At school, when it is time to leave the classroom, I line up with my class at the door. I know it is time to line up when Mrs. Smith says "Class, line up by the door please." |
| | When Mrs. Smith tells us to line up, I know that means she first wants me to get up quietly from my seat. |
| | Then I join the rest of my class by the door and line up behind the last person in line and keep my hands, feet and objects to myself. |
| | I line up behind the last person in line so that I help keep the line orderly and everyone stays happy. |
| | I can help my class get to where we need to go by following directions and lining up quietly. |
| | My teacher will be so proud of me! |
Video Modeling
Video Modeling teaches replacement behaviors by recording an individual completing the target behavior and the student imitating the behavior of the model in the video. The model in the video can either be the student or another individual but the video needs to be of the model demonstrating the replacement behavior successfully to completion so the student has an accurate example.  After the student watches the video of the targeted skill, they demonstrate the target behavior with the long-term goal of generalizing the skill into all settings. Video modeling can be used effectively to teach foundational skills such as imitation, play, and communication. It can also be used in a school setting to teach academic skills where students have learning deficits.
Video Self-Modeling Steps:
Identify a skill or routine that you would like to target

Identify and assemble the materials needed

Complete a task analysis of the skill and routine and collect baseline

Make a plan for filming the video

Record the video

Edit the video 

Show the video to the child

Facilitate the skill development following the viewing of the video

Monitor the students progress and problem solve as needed
Teach Specific Skills
Teach how to access a communication device i.e. "go-talk" as a replacement behavior for aggression/meltdowns due to communication deficit.

Teach how to ask for help with help cards as a replacement behavior for work avoidance due to skill deficit.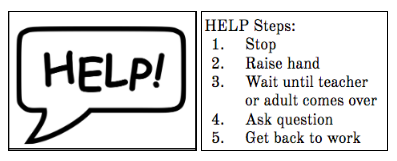 Teach how to ask for a break with break cards and break activity as a replacement behavior for escape due to lack of motivation. 

Teach important life skills such as organization, task initiation, emotional regulation, impulse control, flexibility, self-awareness, problem solving and planning. These skills are crucial to cultivate a learning environment and eliminate any barriers for students so they can have full access to academic instruction.
Examples:
How to Respond When Angry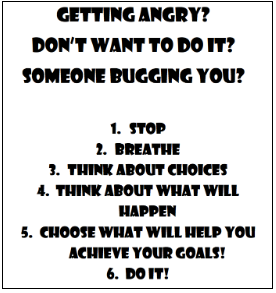 Steps for Staying Calm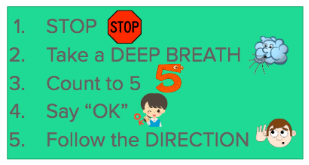 Appropriate Ways to Problem Solve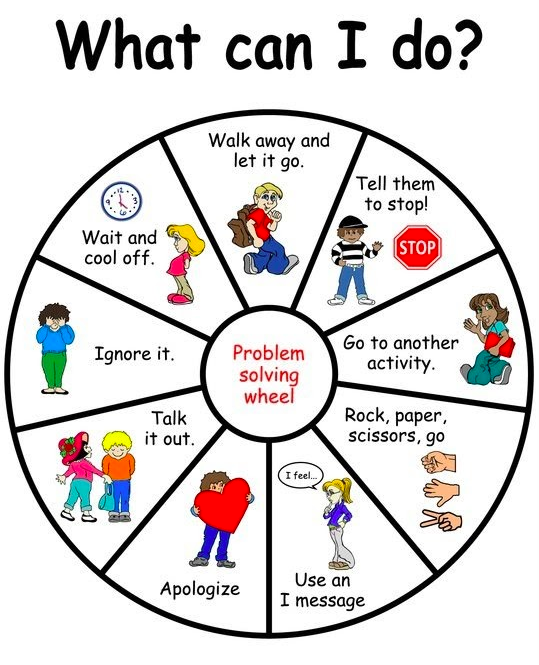 Interactions with peers provide valuable learning opportunities for social skill development. 
Examples:
Conversation Skills teach students socially appropriate ways to converse with peers.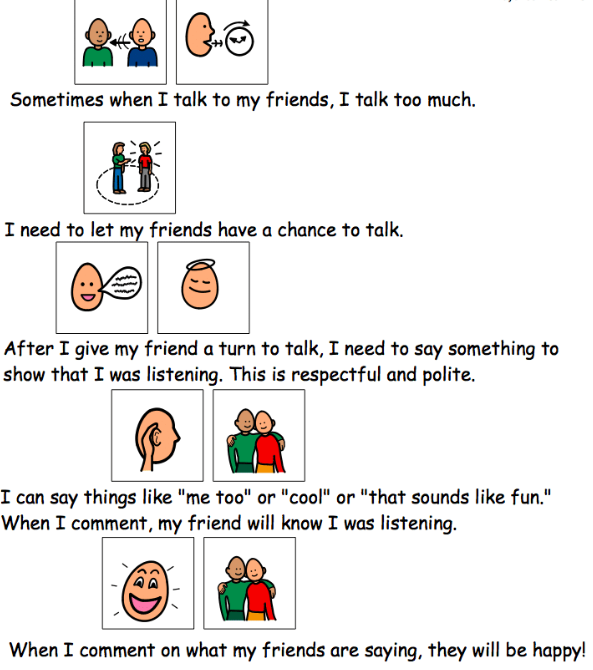 Taking Turns teaches students necessary social steps to appropriately take turns and share during play time, game time and free time activities.
---
CONSEQUENCE FOR PROBLEM BEHAVIOR(S)
Response Cost
Time for a preferred activity is embedded into the student's schedule. This is additional time, not something they already have, such as recess. The activity must be something motivating to the student, and this must be the only time the student gets it. Examples include: extra recess, time with a preferred peer, time with a preferred adult, iPad/tablet time, time playing a preferred game. Students then lose small increments of time when displaying a specific problem behavior (such as aggression). 
Steps for Response Cost: 
Determine the problem behavior and replacement behaviors. (Example problem behavior: Aggression) 

Determine the activity (remember, it must be motivating to the student), the time(s) of day (right before lunch and right before the end of the day are ideal), and the adult that will supervise. 

Create the response cost using small increments of time. You may choose to make it so the student can lose all of their time, or you may choose to leave it so the student always gets a few minutes, at minimum. 
In this example, the student has 15 minutes total. As you can see, the chart only goes to 12:59, meaning the student will always earn at least 2 minutes of reward time.

Some students, particularly those in younger grades, may not have a full understanding of time, and what 'losing time' means. If this is the case, students can instead lose choices from their reward time. For example, the student may have 10 minutes of reward time, twice per day. During this time, they have access to a certain number of items that they can use. Each time the problem behavior is displayed, they lose access to one item. It is important that the most motivating item is the last one to be lost. 
Example: 

Planned Ignoring
Best used for minor problem behaviors (swearing, talk outs, etc) that are primarily attention driven. "Where attention goes, behavior grows" 
When the student displays the problem behavior (Example: talk outs), the behavior is ignored. All reinforcement is removed. It is important though, that when the student displays the appropriate replacement behavior (example: raising hand), that the student is given attention and reinforcement. 
*Not appropriate for aggressive behaviors
Time Out of an Object
Typically, this strategy is used for younger students (up to 4th grade). It is done by choosing an object that the student likes (a favorite toy/book, or a point card) to put in 'Time Out' when a specific problem behavior is displayed. 
Steps for Implementing Time Out of an Object:
Designate a space in the classroom that can be used as an "Object Time Out" area (i.e. on top of a shelf or cabinet).

Select an object that is reinforcing or motivating to the student. This may include a favorite book, a point card (stand alone or on a lanyard), a hat, or a stuffed animal.

If the student engages in the (predetermined) problem behavior, the object is placed in Time Out for a period of time (3 to 5 minutes).

At the conclusion of Time Out, the student is allowed to retrieve the object.
INDIVIDUAL DAILY SCHEDULE
Predictability is one of the most impactful antecedents that educators have control over. Research shows that downtime precipitates problems so having a schedule in place for struggling students will prevent many problem behaviors to begin with. Students also thrive with consistency. Establishing a schedule will help them know what to expect so they can accurately pace themselves throughout the day. The schedule should be reviewed and referenced throughout the day. This helps students feel successful when they are able to finish the scheduled activities to completion. 
Student's Daily Schedule w/embedded (15 minute response cost) times:
Time

9:00

9:30

10:00

10:15

11:15

12:30

12:45

1:30

2:00

2:30

2:45

3:10

3:25

Activity

Resource

Math

Recess

Resource Reading + Writing

Rotations

Response Cost Activity Time

Lunch + Recess

Math

Resource Reading

Recess

Resource Math

Response Cost Activity Time

Dismissal
Student's Daily Schedule w/embedded breaks (5 minutes):
Time

9:00

9:25

9:30

10:00

10:15

10:40

10:45

11:15

12:45

1:30

1:55

2:00

2:30

2:45

3:25

Activity

Resource

Break

Math

Recess

Resource Reading

Break

Resource Writing

Rotations

Lunch+Recess

Math

Break

Resource Reading

Recess

Resource Math

Dismissal 
CHECKLIST OF DAILY ASSIGNMENTS
Students who struggle with work completion benefit from having a visual checklist of daily assignments that need to be completed by the end of the school day. This allows them to see clearly what the teacher expects them to have completed on the designated date before going home for the day. It also allows them the autonomy to check off assignments as they go and feel a sense of accomplishment when they complete each task and move on to the next. Lastly, having a checklist of assignments eliminates any potential power struggles between educators and students when clear expectations are made in advance and outlined for the student.
Example:
Student____________________ Date___________________
Journal Assignment #4

30 minutes of Lexia

20 minutes of Imagine Math

Chapter 3 Math Practice Test Questions 1-10

5 Reading Comprehension Questions

1 Spelling word review game on Chromebook

Classroom job- line leader

Science activity participation

Social skills class with Mrs. K (School Psychologist)
TRANSITION TASK
This strategy can be used to facilitate smooth transitions within the school building and to prevent behaviors such as running in the hall, touching others while in line, touching bulletin boards or other objects in the hall. Create a transition task for walking from any point to another in the school building:
→Bus to classroom and classroom to bus
→Classroom to restroom and back
→Classroom to computer room and back
→Classroom to recess and back
→Classroom to media center and back
→Classroom to assemblies and back
Example:
Fill a large tote or small laundry basket with items that are heavy enough to require the student to use both hands to carry it, but light enough that he can easily manage the weight. This is physically stabilizing and decreases the risk that the student will attempt to throw it. 

Assign the task of carrying the container during every transition, in order to provide an alternative to touching items or other students, and to prevent running behavior. 

Reinforce the student for carrying out the task when he or she arrives at each destination. 

Pair praise with a mark on a point card for compliance with the task and, in the beginning, with a small edible that is carried in the tote, if that is a preferred reinforcer. 

Refer to the transition tote task as the student's 'job' during transition. Prior to leaving a setting, say "(Student name), get your job, please".